Welcome to Global Tank and Tower L.L.C.
Global Tank and Tower L.L.C. is a professional company located in Lavonia, GA offering high quality construction and maintenance services in the broadcast, microwave, and cellular industries. We place the highest emphasis on customer satisfaction in all aspects of our services. The job is not complete until we have earned our customer's full vote of confidence by providing dependable personalized service.
Our team is comprised of dedicated professionals whose focus is delivering customer specific efficient construction services. The growth and success of Global Tank and Tower L.L.C. is directly related to the level of customer satisfaction provided. Our objective is to provide quality service in an expedient manner. We greatly depend on customer referrals and repeat business. We definitely have a vested interest in the success of your project. Let Global Tank and Tower L.L.C. use their experience and expertise to make the difference in your next project.
We offer telecommunication and broadcast system installations on water tanks, cell towers, rooftops, and steeples. Closeout packages are available with every project.
Our services include: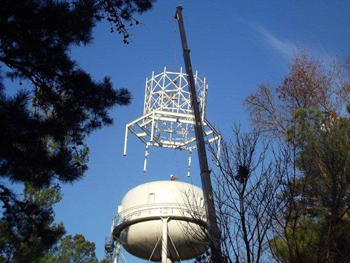 Antenna and Line Installations
Ground System Design, Installation, and Testing
Lightning Rod Installation
Line Sweep Testing
LTE
Microwave Antenna Installations and Path Alignments
Microwave System Installations
Shelter Supply and Installation
Site Surveys and Audits
Structural Steel Welding
Tower Lighting Systems Installation and Maintenance
UMTS
Zoning And Permitting
We also provide tank and tower site inspection and maintenance to include:
Interior Coating Repairs
Relamps

Tank Mapping
Tank Painting

Upgrades of Foundations and Tower Structures
Please click here to view our gallery.