About Global Tank and Tower L.L.C.
Founded in May of 2008, Global Tank and Tower L.L.C. of Lavonia, GA has several certifications and licenses, including a General Contractor License, GA Soil and Water Conservation Commission-issued Lead Abatement Contractor certification, Master Electrician license, and certification as a real estate broker in GA, FL, NC, and SC.
Manufacturer training and certifications include: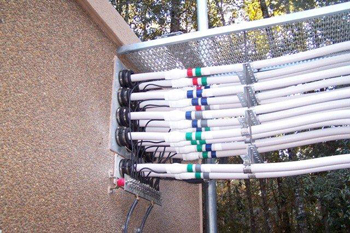 AEMC Ground System Testing
Anritsu – Sweep Test Certification
Andrew Electronics – Connector Installation
Flash Technology Certification in Lighting System Installation and Troubleshooting
PPC Connector Installation
Radio Frequency Systems – Connectors and Electronic Down Tilt Systems
Our safety training includes:
Blood-Borne Pathogens
Climber's Certification and Tower Rescue
Confined Space
CPR
Fall Protection
Fire Extinguisher Training
First Aid
General Housekeeping Rules
General Injury and Liability
Hazard Com

Lead Abatement
Lockout/Tagout
OSHA 10-hour Course
Personal Protective Equipment
Respirator Protocol
Respiratory Fit Test
Scaffold Erection
Scaffolding
Substance Abuse
Welding and Cutting
We perform personal protective equipment checks pre-climb by the climbers themselves, with monthly gear bag checks performed by safety officers and monthly inspections of tools and ladders.
Before each job, a job site risk assessment is conducted by the crew and documented by the crew chief. We have daily tail gate meetings where the crew discusses potential hazards on the work site and site risk mitigation.
Global Tank and Tower L.L.C. carries general liability insurance and statutory limits of Workman's Compensation coverage. Performance and payment bonds are provided when required.
Customers include:
Andrew Systems Inc.
ANSCO LLC
AT&T
Beta Com Inc.
Bluegrass Cellular Inc.
Cellular South
Compass Technology
Cricket Communications Inc
C Spire Wireless
Data-Cell
Data Flow Systems Inc.
On Demand Construction Services, LLC
Dynamic Tower Services
Excell Communications

Goodman Networks
Gibson Technical services
Horne Brothers Construction, Inc
Neo Com Solutions
Neptune Technology Group
MasTec Network Solutions
NSORO
Orion Communications, Inc.
Phoenix of Tennessee, Inc
Sprint
U.S. Cellular
Utility Service Communications Co.
Verizon
WesTower Communications